Whether you're wanting to make a subtle impression and inject some fresh air into your workspace, or you're looking to make a striking design statement in a high-end residential or commercial interior, professional plant designers can help you create the style you're looking for.
By drawing on their knowledge of both design principles and botany, plant designers can craft stunning plantscapes that both augment the design features of the space, and make use of its environmental conditions.
With just a few tricks of the trade, your plant designers can use the impact of lush greenery to bring life and vitality to your interior and your business.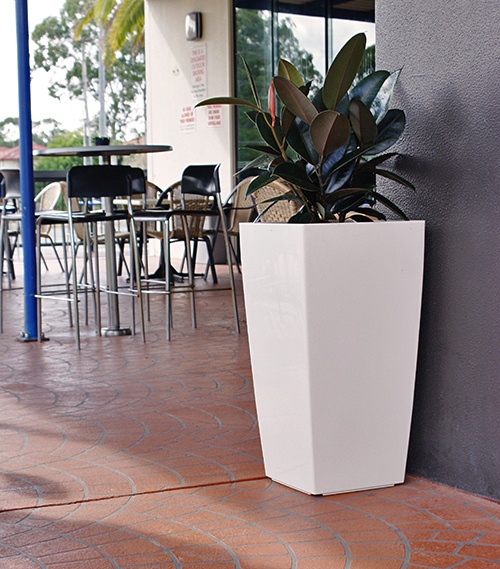 Transforming the design scheme
The thing about greenery is that it's not always green. There's a variety of plants suitable for interior plantscaping, each providing a virtually endless array of colours, textures and forms that will enhance the overall design scheme of your space.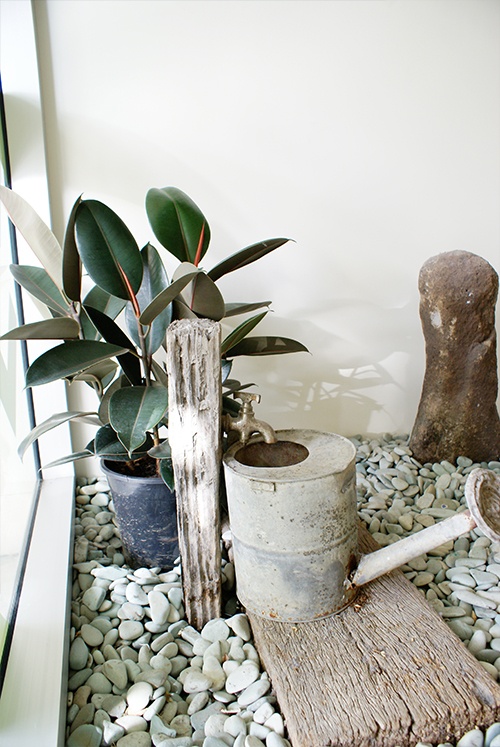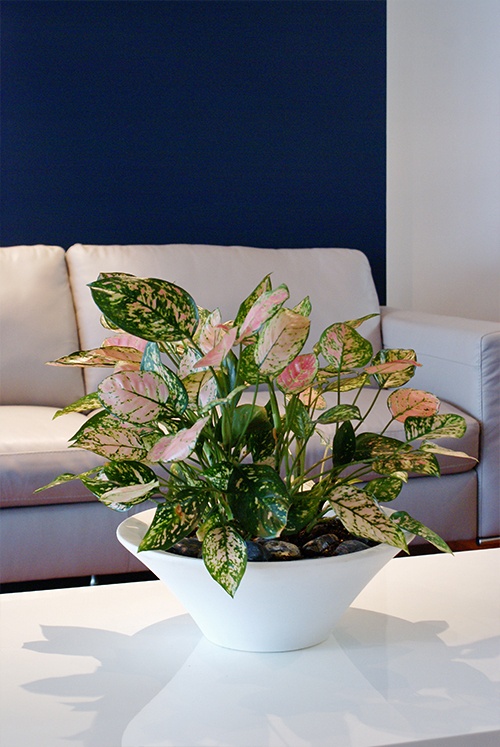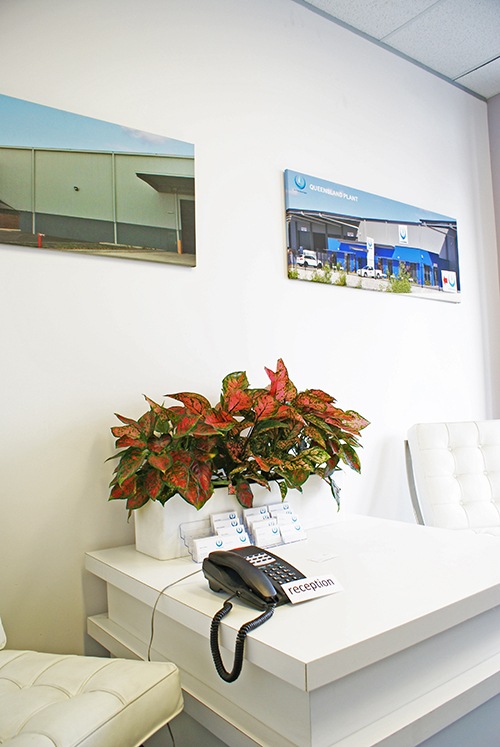 When you engage an interior plant design professional, they'll meet with you to gather information and form an understanding of what you want to achieve for your space, including what kind of visual impressions and statements you want the greenery to make on behalf of your business. From this information, your plant designer will build an idea of which plants will be the right fit for the forms and colours you need to create the atmosphere you want for your space.
But design is also about functionality, and there's a unique set of functional requirements in every commercial space that must be met with good design.
Plant designers take into consideration the nuances of the existing windows, doors and interior fixtures, and find ways to maximise their potential to achieve a remarkable transformation in your business.
Revitalising the environment
Just as important as the design aesthetic is managing the unique conditions of your interior's physical environment. Interior plantscapers look for natural and artificial heating, cooling, and lighting sources, foot traffic, partitions, furniture, and high-usage areas, so they can make use of any beneficial aspects, and reduce the impact of the deficits in the space. They draw on their own horticultural skills to determine which plant species will best suit the building and the business, as well as achieve the dual purposes of creating a sophisticated visual effect and bringing the environment new vitality and health.
Interior plantscapers can significantly reduce noise, carbon dioxide, gaseous pollutants from solvents and plastics in the building—and even power usage—with their carefully considered designs. The right species will thrive in the conditions of the building, as well as counter the effects that can cause its occupants to suffer conditions like SBS (Sick Building Syndrome). While a plantscape crafted by an expert will deliver a breathtaking visual feast to any business, it's worth its weight in gold for what it can save your business in the way of healthier, happier and more productive workers.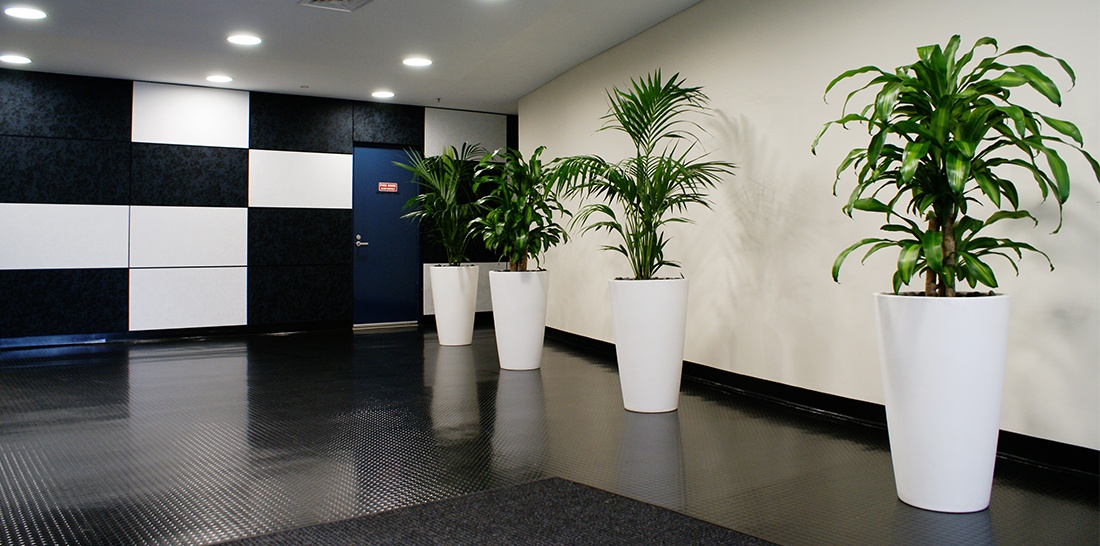 Customising solutions for your space
All businesses are different in both form and function, and their interior design should be an accurate reflection of their individuality and unique offerings.
That's why interior plant designers will help you to choose the plant species that will bring the most benefit to your business, whether your goals and preferences are related more to matching the design aesthetic of your branding, or to offsetting the environmental challenges of your building.
Interior plantings usually use foliage plants, because green plants provide a lush display continuously throughout the year. They're also hardy, and adaptable to the low light levels of most indoor spaces, making them a low-maintenance option for bringing a pop of colour and an inviting impression to your business. But, depending on the specific limitations of your space, you might also be able to enjoy some species of flowering plants in your displays, and bring a variety of colours and fragrances into your business with the changing seasons.
Flowering plants are a longer-lasting alternative to fresh-cut flowers (or even artificial flowers), delivering the visual impact and beauty of colour with all the clean-air benefits of living plants.
Your interior plant design expert will assess your building, and give you choices among flowering or foliage species that are appropriate for your space, so you can customise your plantscapes into something unique and perfect for your business.
Rejuvenating your business operations
Besides giving your customers and guests the welcoming impression that you're invested in their wellbeing and comfort, interior plant designers can also create an atmosphere conducive to improving the morale, motivation, and productivity of your employees. And besides the beauty they bring to the design of your workplace, plantscapes can also significantly and measurably reduce the reportable stress and sick leave rates of your workers.
Well-designed interior plantings appeal to the natural instincts of the human body, which was designed to be outdoors. Bringing your employees closer to nature with even a small glimpse of greenery can help them to relax and concentrate, and rejuvenate them by removing feelings of negativity that can cause distress and poor performance. Your interior plantscaper can also help you reduce fatigue among your workers. .
As well as conditions like Sick Building Syndrome (SBS), which causes respiratory irritations and infections, and a range of clinical and subclinical symptomsYour beautiful plantscape, which brings a pleasing design aesthetic feelings of luxury and relaxation, can also improve the health and wellbeing of your employees:it can remove the carbon dioxide and gaseous pollutants from the air that are emitted by plastics and other synthetic materials, literally giving them a breath of fresh air.
It might seem like a luxury to install plants in your workplace, given the tough economic conditions we've been through in recent times. But many business owners have found that the returns that well-designed green interiors bring—in terms of customer satisfaction and employee productivity—are well worth the investment.