As a business owner, it's your legal and moral responsibility to provide your staff with a safe and comfortable work environment. Meeting the basic requirements of health and safety isn't hard, but it also won't do much to promote a productive and positive work environment. While Australia's working conditions are usually reasonable, most business owners aren't aware of how important it is to take defensive measures against contemporary threats to general health and wellbeing.
Luckily, it only takes a little consideration and a few simple additions to your spaces to completely transform the dynamic of your workplace, dramatically impacting on the wellbeing of your workers for the better—and bringing you the economic benefits that come with their improved health.
With just a few tricks of the trade, your plant designers can use the impact of lush greenery to bring life and vitality to your interior and your business.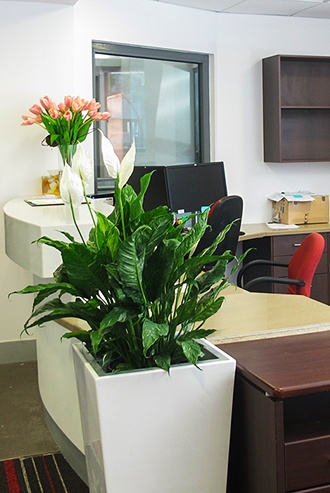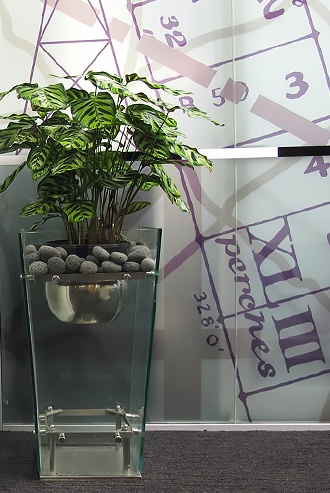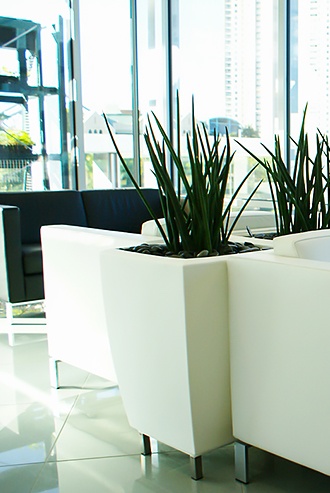 How plants improve our health
It's common knowledge that incorporating plants into your workplace is a great way to bring beauty and sophistication to your business image. Many successful businesses are already using them for the aesthetic value they offer. But there's a fast-growing body of evidence to suggest that they also bring remarkable health benefits for your workers—which translates directly into improved productivity and job satisfaction.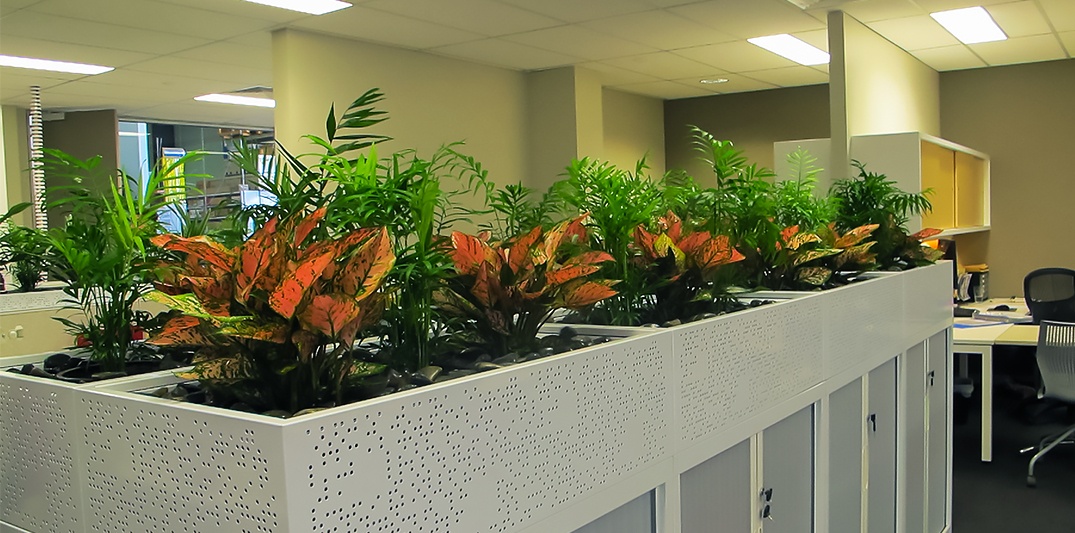 Indoor plants play an important role in fostering a healthier, happier work environment. They do this in measurable ways, including removing illness-causing contaminants from indoor air, increasing humidity to prevent irritation to the eyes and respiratory tract, and by reducing stress, fatigue, and other health symptoms associated with high noise levels or crowded work spaces.
These benefits are being documented more and more in the health sciences, with many well-respected tertiary institutions contributing proof of improved health in people who work among plants.
Claims about the health effects of plants might seem lofty, but many studies have already yielded support for the theory. When plants were introduced into 51 offices in Oslo, Norway, health complaints declined by 23 percent. A Norwegian hospital experienced a reduction in illness absence from 15 to 5 percent within six months of introducing plants into the radiology department. In his studies of healthcare settings, Professor Roger Ulrich of Texas A&M University found that just looking at plants can reduce stress and may have actual health benefits. Dr. Margaret Burchett of University of Technology, Sydney, found that live plants actually eliminate toxins that cause headaches, dizziness, fatigue, and illnesses among indoor workers. These, and many other studies, quantify the clear relationship between declining health problems and indoor plant installations.
How contemporary working conditions make us sick
Many people already know that being inside and separated from nature makes them feel ill: that's why so many people working in densely populated buildings can be found outside, and under a tree, when it comes time for lunch. It's not a new phenomenon; but it now has a name, which is taking centre stage in discussions around contemporary health issues.
Buildings are said to have Sick Building Syndrome (SBS) when occupants experience health effects that seem to be connected to being inside the building. Signs of SBS include headaches, dry cough, dizziness, fatigue, sensitivity to odours and irritation of the eyes, nose, throat, or skin. A 1984 World Health Organization report indicated that occupants of up to 30 percent of new and remodelled buildings suffered from excessive complaints related to poor indoor air quality—and these conditions haven't improved much since then.
Insufficient ventilation, chemical contaminants, and biological hazards such as bacteria and moulds contribute to SBS. Poor temperature control, low humidity, excessive noise, and inadequate lighting often add to the complaints. The combination is a hazardous one, resulting in increases in sick leave, reduced job satisfaction, and poor performance.
Combatting the impact of SBS on the health of workers is a difficult task. In most modern and high-rise buildings, it's virtually impossible to bring in the fresh air or keep contaminants out: the windows don't open for safety and structural reasons, and it's not often economically feasible to replace the equipment that's constructed from inexpensive but chemical-emitting synthetic materials. Luckily, there's an inexpensive, natural and attractive way to combat these health threats: and it comes in the unlikely form of a humble indoor plant.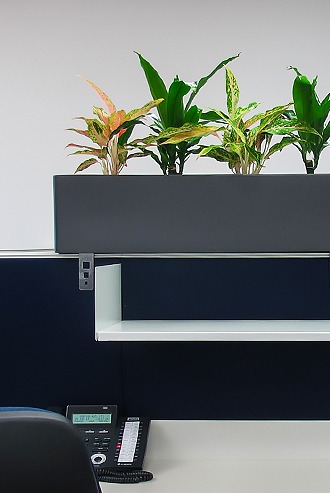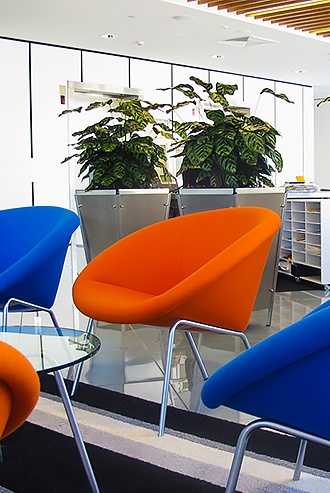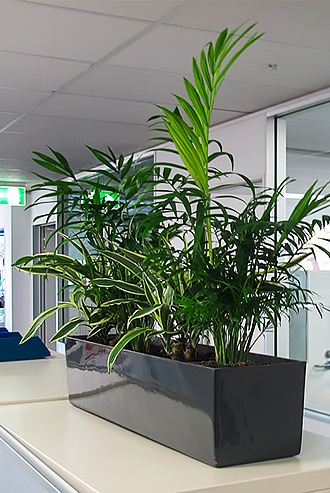 Improving working conditions with plants
Living plants directly address many of the factors that contribute to SBS. They increase humidity, which helps to prevent dry skin and mucous membranes. They reduce factors that cause distress, by moderating noise levels and controlling the temperature. Most significantly, the microorganisms in the soil eliminate volatile organic compounds, a major class of indoor air pollutants. Many health benefits stemming directly from these factors have already been documented, and researchers expect to document many more in the future.
Employers can also use indoor plants to prevent health problems at work. With thoughtful examination of the problems workers are experiencing, they can use indoor plants as a means of eliminating the causes.
Studies show that employers' investments in illness prevention yield a six-fold reduction in healthcare costs—this is particularly evident in incorporating plant installations, which commonly deliver high returns on investment.
The physiological benefits of incorporating plants into the workplace are inarguable. But what new evidence is showing is that they also go a long way to improving workers' experiences of their work environment, as well as boosting their morale. This boost in morale has a follow-on function: it leads directly to a boost in productivity, performance, and the quality of their work.
When their health and wellbeing is supported, both workers and business owners benefit. And when these benefits are delivered with low maintenance, low costs, and nothing but a positive impact on the environment and the people in it, they're indisputable.
If you're a business owner looking to take advantage of the natural, attractive, and welcoming solutions to sick building syndrome that plants provide, look to Prestigious Plantscapes. Our experienced plant designers can assess the health issues in your workplace and custom design installations to suit your needs. Contact us anytime — we'd love to be part of promoting wellbeing and prosperity in your business.